BOREHOLE / WELL INSPECTION CAMERAS
Known for small sewer inspection cameras, minCam now presents very compact well cameras.
The Combo system begins with a 50 m hand cable drum and ends with 550 m special manufactured cable on a motorized drum. Smallest camera head has 18 mm outer diameter, 29 mm, biggest 55 mm. Highlight is the BK550 well camera system with a P&T camera head, tested for 60 bar surrounding. Well camera systems – simple – robust – effective.

BK550Set – Borehole / Well Camera System
Color pan&tilt camera head with head diameter of 50 mm
60 bar water protected
To inspect up to 400 mm wide wells without additional light
Auto mechanical focus
3.5 mm Sapphire glass protected lens
View angle lens diagonal 136°
Endless rotation, view angle tilt 150°
Electronical zoom
Integrated LED light
Simple text generator handling
Pan&tilt values can be shown on monitor
Integrated pressure sensor
Easy cleaning of the motorized cable drum
550 m flexible cable – PA coated, tensile strength of 5000 N
Exact controllable up and down movement
Fold out cable arm
Dimension: 680 x 610 x 570 mm (l x w x h)
Weight: about 70 kg (cable incl)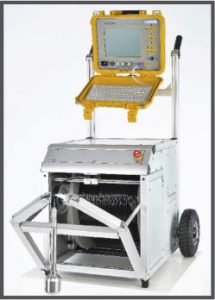 Combo Borehole / Well camera system
Combo well camera system with different camera heads, outer diameter 18mm, 29mm, 55mm. To be operated with battery or mains, for different cable length beginning with 50m, 100 m, 200m, up to 550m.
These systems can be run with PC / Notebook too
8.4" sunlight readable TFT-LCD monitor in a robust Peli case
Storage of videos, pictures and audio on SD-card – max 32 GB
Text generator and electronic insert of meter value, date