Pipeline inspection cameras -Troglotech
A wide variety of different cameras are available on the market in order to conduct pipeline inspections. These cameras are designed in order to enhance the remote inspection process. Pan-and-rotate cameras give the operator the ability to position the camera lens in order to properly identify or examine a defect in the pipeline.

Troglotech has designed a new way of measuring defects and other artefacts such as crack-widths while surveying pipe work.
The new method radically simplifies and expedites surveying where measurements are required. Instead of using lasers, Troglotech has implemented a digital camera lens – the operator just has to focus on the artefact being measured and the object distance is automatically calculated and displayed.
T812 P&T camera
Introducing digital measurements
The T812 Pan and Tilt camera with 'Human Perspective View' and Digital Lens Measurement.
T812 features:
Human Perspective view – no upside-down pictures
Digital measurements of any artefact
Perfect pictures from our own camera design
Self-centring – one-touch for a straight-ahead view
Waterproof to IP68
Custom LED lighting for illumination in up-to 36" pipes
Designed for use on the T804 Trogloprobe pushrod system
Fits our standard skid set for 3", 4" and 6"
Sacrificial front bumper – easily replaced in five minutes
12" Universal wheeled skid available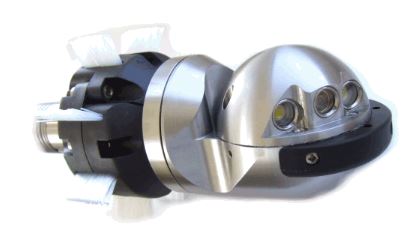 The T800 Auto 
Uprighting Camera
The T800 Auto-Uprighting camera – tough, reliable, proven.
Features and benefits:
Fits the T804 Trogloprobe System
Simple to use – auto uprighting and fixed focus, nothing to adjust
Fully waterproof to IP68 (160 psi)
Thousands in use throughout the world in the harshest environments
Designed for simple servicing at our worldwide service centres
Low-power operation allows up to 8 hours operation on the Troglotech T804 system
Tough – Stainless-Steel construction with a 5mm deep Sapphire lens window
Fits standard Troglotech skid sets
Well proven camera design
Super-bright custom LED lighting
Patented Digital Clarity technology for a sharp, noise-free video picture
High Definition, 540 lines pph digital sensor module designed by Troglotech
Fixed white-balance for correct colour rendition – no more green terracotta pipes!
Troglotech Camera Downloads
Troglotech T710 One-Inch Camera Click Here
Troglotech T800 Auto-Uprighting Camera Click Here
Troglotech T812 Pan & Tilt Camera Click Here