PIPELINE STOPPERS / PLUGS AND LIFTING BAGS
Vetter: Inflatable Pipe Plugs / Pipe Stoppers /  Pipe Sealing Bags / Lifting Bags & Leak Sealing Bags 
Quick and easy to install, Vetter offers optimum results regardless of pipe size and shape. Available for all pipe blocking, pipe pressure testing and over-pumping applications.
We also have a range of flexible packers for pipe rehabilitation applications , industrial pneumatics such as lifting bags and leak sealing bags from our HazMat product range.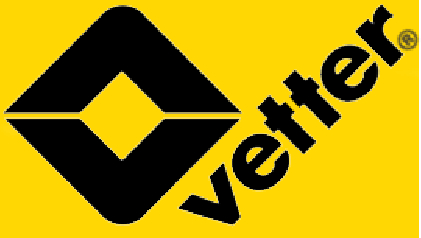 Top products from the pneumatic professionals.
It is for you that Vetter continually develops their products further– based on their decades of experience with industrial pneumatic technology and the materials used for this. In doing this they follow two goals:
1. Carefully shifting the limits
Their objective is always to be at the top of development and to sound out and shift the limits of capability with the pioneering spirit while simultaneously always having the requirements of the rescuer in mind.
2. Integrated safety
All their industrial pneumatics products meet the highest safety standards. This is already reached during the product development stage. You can always be 100% certain that you have made the correct decision.
Application Scenarios
With industrial pneumatics products from Vetter, you are well prepared for disasters of all sizes.
Pipe Sealing Bags
Vetter Pipe Sealing bags are the optimum solution when quick and reliable sealing of drainage is required. A big advantage of the sealing bags is their freely selectable contact pressure on the pipe wall: from 0.5 bar to 2.5 bar (7.25 psi – 36.25 psi).
The areas of operation are, among others: sealing off sewer pipelines during repair or maintenance work avoiding sewage backflow at the source location during pipe bursts, flooding, sewer inspection, sewer cleaning, repair and maintenance work.
Due to the numerous application possibilities, sealing bags are used in different branches of industry, such as road and sewer construction and civil engineering.
Vetter Pipe Sealing bags can be used for the sealing test according to DIN EN 1610.
Lifting Bags
Vetter industrial lifting bags 8 bar (116 psi) are characterized by their noiseless, bump-free and smooth lifting of the most heavy loads. They lift, press, compress, brace and cleave; even in angled positions.
The surface profile improves the gripping capability on slippery ground such as grass, sand etc. They have a multi-layer construction which widely extends over both sides of the bag. This is made of aramid.
Inflation of industrial lifting bags can be made with air as well as water. Accessories necessary for inflation can be individually put together.
Industrial bags belonging to the IKV series have been especially developed for applications having high frequency rates, for example:
Securing devices in presses or other types of machines
Regular pressing or lifting of loads
Shape ejection out of production lines
Industrial bags belonging to the V series are best suited for temporary operations such as assembly and maintenance work on machines and conversion and adjustments of heavy loads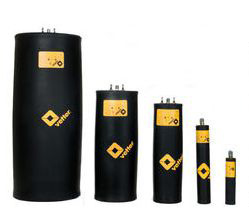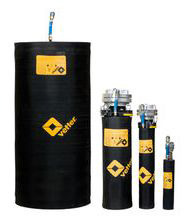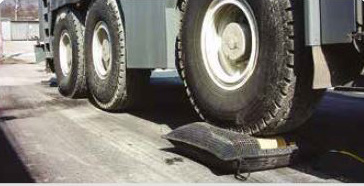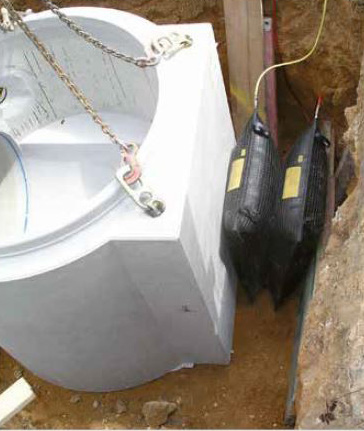 Creating intermediate space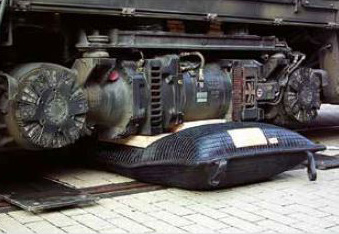 Leak Sealing Bags
Every second counts when hazardous liquids escape from tanks, pipes or drums. Vetter leak sealing bags are therefore optimally designed for fast and easy use at the accident site. You inflate the bag within the shortest possible time with a foot pump. The uniform pressure distribution of the sealing bags protects the structures around the leaks and thus reduces the risk of the leak enlarging. The acid protective covers have an integrated belt pocket and suitable belt slots. You therefore do not have to remove the cover and belts for storage and save valuable time in operation.
Vetter leak sealing bags are available in two versions:
SWIVEL EYES
Particularly flexible in operation, the swivel eyes can be braced at an angle at temperatures up to 90°C. This allows for unlimited positioning options.
BELT SLOTS
The safe solution in case of a risk of explosion has no metal parts on the belt slot thereby negating the possibility of sparking.