2 to 100 ton Winches
Grundowinch Twin Capstan Winches offer unbeatable performance. Whatever capacity required or task performed. Grundowinch has re-written the specification rulebook with the user in mind. 
Never before has such a comprehensive range of winches been available for today's increasingly active Trenchless Technology Industry. Faced with Sewage Lining to Slip Lining, Roll Down to Sewer Renovation,
Pipe Cracking to Pipe and Cable Pulling – Grundowinch pulls them all. Hands free operation is a hallmark of all Grundowinches, just set the required tonnage and line speed and let Grundowinch take the strain. 
Any cable slack is immediately sensed and quickly taken up automatically. 
Grundowinches are designed and built with both user and plant manager in mind. Fully automatic and easy to use, tough, durable, reliable and simple to maintain. For Sewage Lining and sensitive cable winching operations, optional electronic display data loggers are available to constantly monitor line-speed and applied winching force
Data is stored on an internal SD which can be printed for reference purposes or statistical analysis.
COMPACT
Grundowinch 5 Tonne Model is dimensionally similar in size to it's smaller sister winches, Grundowinch 2, 3 and 4 Tonne models. Due to their size, weight and single axle configuration, towing to and from site is safe and manoeuvrability is effortless. Compact 3 tonne Pulljack twin capstan versions are also available.
SILENT
The Grundowinch sound absorbing construction materials are standard on all models. Grundowinches are frequently used in built-up, residential areas and even when working at full load, noise levels are impressively low  and well within EU regulations. This makes site communications so much  easier when verbal trench to trench contact is required.
All Grundowinches are fully enclosed in a robust, secure, steel casing providing:
Total Safety with no exposed moving parts
Low sound levels
Security due the control panel and engine compartment being fully lockable
Weather proofing
On site durability
Long life expectancy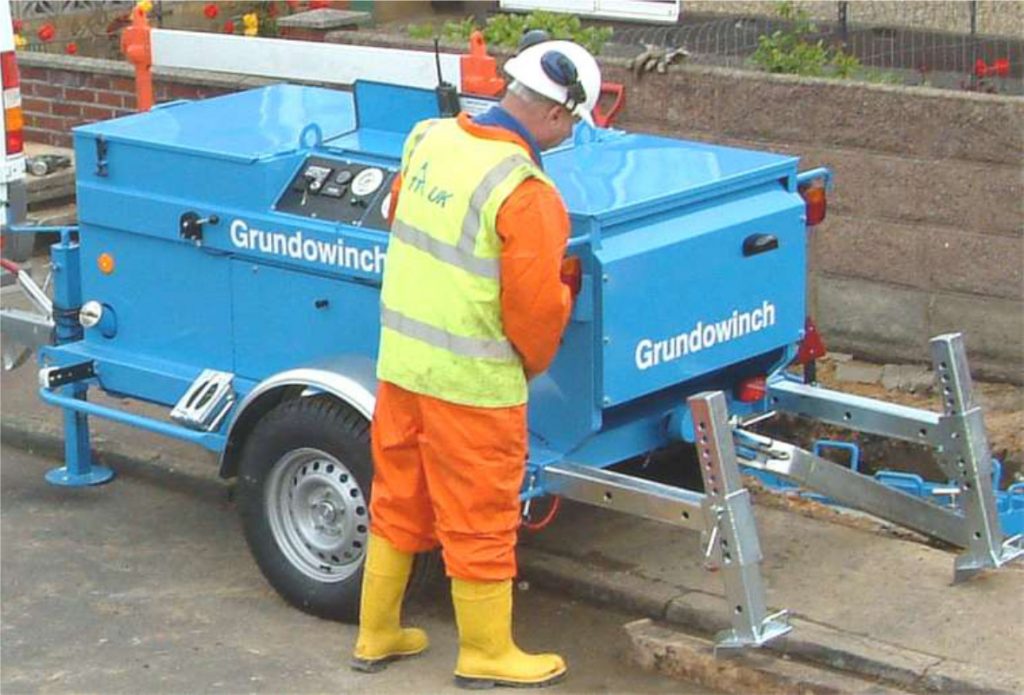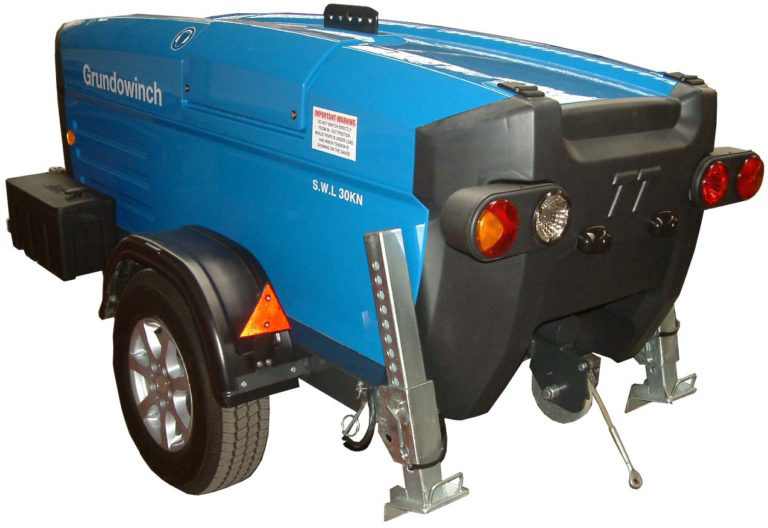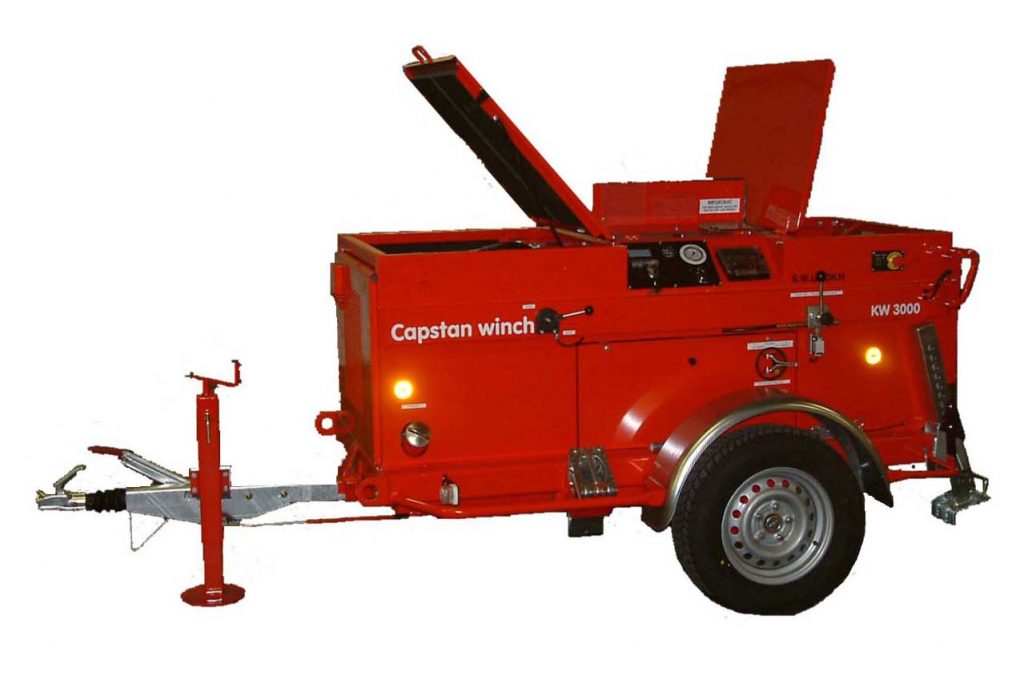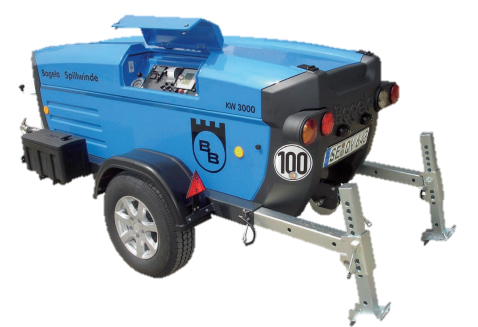 BESPOKE
Our standard range of Grundowinches spans from 2 to 40 tonnes. We can also build specialist Grundowinches in excess of 100 tonnes!
TRANSPORT WITH EASE
Grundowinch's superb adjustable height tow bars (optional) ensure there is never a problem with transportation. Adjustment can be made in seconds without the need for any special tools. All winches are supplied with interchangeable ring eye and ball hitch to suit user requirements. The running gear and road lighting conforms, of course, to current EU regulations
CABLE STORAGE AND PROTECTION
Expensive cables are frequently in need of replacement through damage caused by excessive abrasive wear on winches which do not have cable layering or storage facilities. Grundowinch leaves nothing to chance with its fail-safe layering device which ensures accurate and consistent cable management and because all Grundowinches are twin capstan, there is no stress transferred to the cable drum or to the cable as it is layered. If for any reason the Grundowinch cable is damaged or requires replacement (after long service) this can be quickly carried out on site with little downtime.
CONTROLLABLE POWER
Increases required in tonnage (throughout the Grundowinch range) can be adjusted simply by movement of single easy access lever. No disengagement of gears are initially required as with other types of winch. The required tonnage is set by the single lever and this "set load" is then verified by an independent fluid gauge giving absolute reliability. High/low gearing is standard on all Grundowinches allowing variable line speeds depending on the tonnage required.
For operator safety, the winch control lever is positioned at the rear, thus when winching in the conventional position, the operator's view of the operation is not obscured. In cases of obstruction, where the operator requires greater control over winching, an optional remote control pendant is available providing ultimate winch-ability.
Pay-out of the winch cable is power assisted thereby allowing quick set up for fast winching operations.
POWER TO PERFORM
The engines used to power the Grundowinch range are carefully selected for their low noise emissions, long-term proven reliability and consistent performance. Diesel engines from either Lombardini (3 or 4 cylinder) or Hatz (2, 3 or 4 cylinder) are fitted as standard. Petrol versions are also available in the smaller models as an option. Access for servicing and maintenance is simplicity itself with all serviceable parts within easy reach and spare parts are available through a worldwide network of suppliers.
VARIABLE WINCHING POSITIONS
Grundowinches can be used for a variety of applications. With so many varied site conditions, the position of the winch is crucial to the success of the operation. Often winches can become damaged due to incorrect positioning resulting in an overload situation. Grundowinches are designed with just about every possibility in mind. A special 360° swivel pulley (fairlead) is incorporated at the rear of the chassis allowing variable off centre winching angles without compromising load percentage. A further feature of Grundowinch is they are operated with the same degree of flexibility facing forwards or backwards to the winching exit trench.
SAFETY UNDER LOAD
With pulling forces from 2 to 40 tonnes, firm anchoring of the Grundowinch is catered for by specially designed,
strengthened prop legs to the front and extendable, adjustable, angled legs with "cutting feet" to the rear –
giving positive anchoring on the roughest ground, helping to control winch movement. Where site conditions allow, it is recommended the Grundowinch remains coupled to the towing vehicle during operation for increased stability. It is also recommended Grundowinch is secured with ropes, chains or lashing straps at the anchor points to avoid lateral movement or lifting of the towbar. Fully adjustable easy clip on boom assemblies are available for the complete range of Grundowinches giving access down to 5 meters in depth to cover the majority of winching applications, with absolute safety in mind. Special length booms can be made to suit.