Recycling Vehicles
Efficient and user-friendly
Efficient performance
The KAISER AquaStar offers a perfect combination of performance and versatility. The KDU high-pressure pump delivers water at a rate of 320 to 500 litres per minute (with a double KDU up to 800 litres) and water pressure of up to 200 bar. The large-size hose reel can accommodate a 300m setting hose.
On the KAISER vacuum pump the maximum air throughput is 4000m3/h (with a double KWP up to 6200m3/h). Due to the selection of various suction booms , the vehicle can be optimally adapted to the respective implementation requirements.
Versatility
With ROTOMAX, AquaStar represents a benchmark for the industry in the high performance recycling sector.
With a folding partition, the vehicle can vacuum up and dispose of two different media.
A dry vacuum device permits the pick-up of dry material while streets can be cleaned with high-pressure water from wash booms.
The ADR equipment is used for the disposal of dangerous waste materials.
Outstanding economy
The consumption-optimised hydraulic system reduces fuel consumption by adapting the suction power in accordance with the vacuum rate. In the recycling mode, the water flow rate is also automatically adapted to the available water supply. Cleaning quality is enhanced by the constant jetting hose drive with speed control. Additional interfaces make it possible to link up with recording and information systems for the planning and organisation of sewer maintenance.
Greater operating comfort
The information display with integrated analysis system gives the operator qualified feedback on current performance parameters. Data such as jetting hose metre counter, vehicle weight and component status are transmitted directly to the radio remote control and presented in graphical form on the display. The display and control of the water pressure at the jetting nozzle also make sewer cleaning considerably easier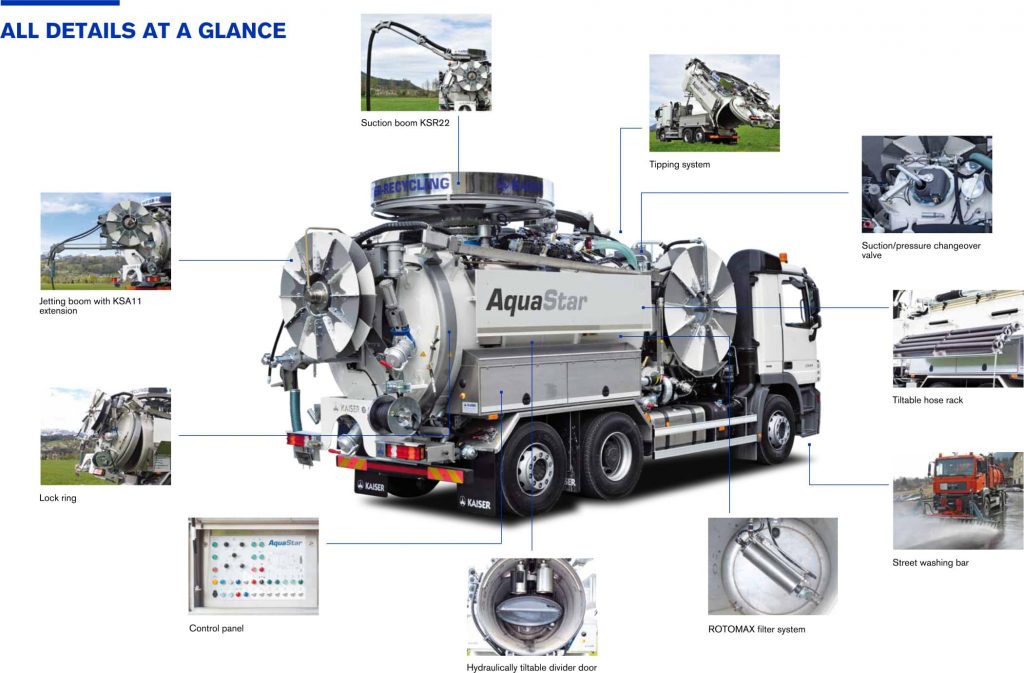 TECHNICAL DETAILS
High-pressure water system
Jetting pump: KAISER pressure transformer KDU 148
Flow rate 320 – 800 L/min, max. 200 bar
Jetting reel capacity 300m 1" or 220m 5/4" HP hose
Hydraulic auxiliary hose and manual hose
ROTOMAX water recycling system
Vacuum system
Vacuum pump: KAISER liquid ring pump KWP
Suction capacity 1600 – 6200m3/h
Telescopic suction boom, spiral suction boom or combined suction/jetting boom
Tank structure
Sludge tank and fresh water tank in chrome steel
Tank capacity 8000 litres (18to) to 16,600 litres (40to)
Vacuum pump fitted inside fresh water tank
Tank cover with lock ring
Tipping system
ADR design
Hydraulically tiltable divider door
Operation
Control panel on right-hand side at rear of vehicle
Radio remote control
KAISERtronic control system
KAISERteleservice remote maintenance system